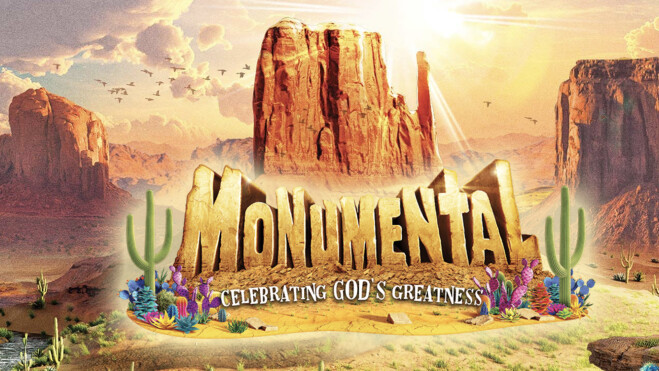 Hey Kids 4 years - entering 5th Grade!
Come trek with us!
July 25 - 28 9:00 - 11:30 am FREE!
At City Church's Vacation Bible School, let's go off-road for a Monumental adventure through colorful canyons and sunbaked trails. By exploring God's awesomeness, children will form a rock-solid faith for the road ahead. This week will be an interactive Bible adventure your kids will love! They'll deepen friendships and form new ones in their small groups as they move through a series of hands-on, creative stations including Bible adventures, team-building games, music and crafts.

Walk-up registration is available on Monday of VBS
Monday – God loves you no matter what. (Joseph's family feuds, Genesis 37)
Tuesday - God is with you everywhere. (Joseph is imprisioned, Genesis 39-40)
Wednesday – God is in charge. (Joseph gets new responsibilities, Genesis 41)
Thursday – God is stronger than anything. (Jesus' death & resurrection, Luke 23:1 - 24:12)
Thursday Evening Family Night – This year, we will be closing our week of VBS with a night of family fun. Come as a family to experience the VBS finale with music, drama, a recap of the week and come fun extra-special family activities. This is an evening you won't want to miss.
Need more details? Click HERE
Vacation Bible School is a great chance to volunteer: before, during or after the program. All volunteers that interact with children are required to submit to a background check, at the church's expense.