City Church Missions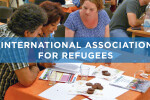 City Church is working with the International Association for Refugees to send a team to Italy June 27- July 9. They will be serving at Il Soggiorno, a refugee center in Rome, supporting their mission of showing the love of Christ and the hope of the Gospel, through welcoming refugees with dignity. The name, Il Soggiorno, refers to both an extended stay (sojourn) in a foreign land and to the living room in an Italian home. That reflects the work of the center: to provide a "living room" where refugees, Italians and foreigners are invited to come together, to sit and drink tea, to explore a new language, to play a game or talk and laugh with new friends and old. In short, it's a safe space in the midst of a harsh journey, to just be people together. They will also be working with several local churches in Rome on specific projects during the 13 day trip.
The team is looking to raise $14,400 to cover the costs of travel and ministry. If you would like to financially support this work, click on the button below and select "Summer 2018 Rome Missions Trip" as the fund for your donation.
Our Team