The purpose of CityKids is for each child
To love God
To know God more fully and respond to Him in worship; and
To love others
Using prayers, spoken words, and actions to bless and encourage others. for the glory of our Lord, Jesus Christ.
---
The Values of CityKids
At the root of CityKids are the following Biblical values:
Knowing God, being sown with the seed of God's Word. (Luke 8:15, 2 Corinthians 9:6)
Growth is the result of spending time in God's Word, prayer and fellowship. (Psalm 1:3, John 15:16)
Growth comes only from God (1 Corinthians 3:5-7, John 15:5)
Fruit of the Spirit is the evidence of growth. (John 15:16, Galatians 5:22-23)
All disciples are commanded to "preach the good news" of Jesus and to make more disciples for him. (Matthew 28:19-20, Mark 16:15)
---
Announcements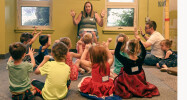 Summer Schedule
From May 29 - September 4th, with the exception of our outdoor services, Early Childhood classes will run concurrent with the 9:30 am worship service. Located on the Lower Level, just 5 steps down from the parking lot entrance, the Nursery welcomes children birth - 2 years old. For those 3-6 years old, our PreK & K classroom is the place to be, with songs, stories, crafts and fun. Elementary-aged children are encouraged to worship with their families.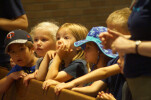 SAVE THE DATE - Vacation Bible School 2022
The week of July 25th, 2022 City Church will be hosting our 15th Vacation Bible School for children ages 4 - entering 5th grade in the Fall of 2022. New this year is a Family Fun Night on Thursday, July 28th so that the children can show their families all the fun they've been having and parents get in on the fun! Click HERE for more information and to register.