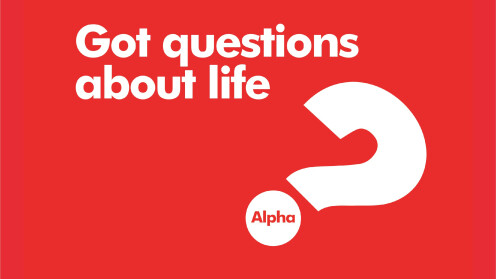 Alpha for 2020-2021 year will be virtual with no meal and will begin in January 2021. More details forthcoming. Email Amy Rowell if interested. See below how Alpha has been run in the past.
Everyone has questions.
Alpha is an opportunity to explore Life and the Christian faith in a friendly open and informal environment. No pressure. No follow up. No charge. Everyone is welcomed.

Each Session runs 6:00-8: 00 pm and includes:
6:00 Dinner
6:45 Interactive video/talk
7:15 Small Group Discussion
8:00 Dismissal

Generally run each September over 10 weeks, each talk will look at a different question around faith and will create space for a conversation. Topics in the series include:
Is there more to life than this?
Who is Jesus?
Why did Jesus have to die?
How can we have faith?
Why and how do I pray?
Why and how should I read the Bible?
How does God guide us?
Who is the Holy Spirit?
How can I resist evil?
What about the church?
How can I make the most of the rest of my life?